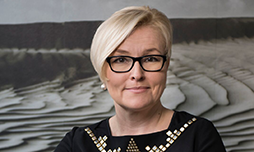 Yes, we have all heard and read just about everything available about the impact of digitalization on business. And consequently yes, we know that the waves of the fourth industrial revolution are transforming business and ultimately our lives. So why are the big moves in the field still so rare?
According to a recent study by IMD, half of the 636 surveyed business leaders in 44 countries today see digitalization affecting their business one way or another. In 2015, it was only 15%. Even less see digitalization as an opportunity, only around 30%. What is more, even less feel personally prepared for this, just 15% of respondents. This makes me wonder. In Finland, we have discussed digital business opportunities in media, at events and in executive education for several years now. All this is so far only concerning awareness. The big strategic leaps and actions in this field are still quite rare, both in Finland and elsewhere.
For business and leadership development, the change in the customers' business environment and logic is a crucial angle to consider, in both content and method. This is the angle we at Hanken & SSE have been able tackle best in our projects and programs. However, there are many more angles than this one to explore.
Firstly, our industry of executive education, is also going to be disrupted. The previously mentioned IMD study, lists industries next to be affected by digitalization and professional services were placed 8th. So not quite at the top yet, and one could claim that it has been one of the slowest changing industries. Anyhow, we and others in this industry are currently intensively trying to identify new success recipes for our business models. The trend without doubt is to move leadership development out from physical classrooms. Because the earning logic so far has been quite heavily based on classroom activities, we are really facing a challenge to renew strategy and our business.
Secondly, also the desired leadership profile is changing. The IMD study shows that the most needed leadership competences are quite different from what they used to be. The so called "HAVE" competences are the most important in the digital era: being humble, adaptable, visionary and engaged. Thus, we should consider how to best enhance these competences in leadership development.
Thirdly, Human Resources, development and talent processes in companies are changing too. In executive education, we should be able to match and integrate our service portfolio into these company processes, platforms and practices. As for the HR executives, our own ongoing study on how HR executives see the impact of digitalization reveal that there are huge differences in views on disruption. Some do not see any impact on HR processes yet, while others think that their field is already in the middle of a huge transformation towards everything being digital, AI supported, complex, agile, embedded and individual. Stay tuned for more results of the HR survey this fall.
To conclude, I must say that we live in interesting times. Personally, I think the most interesting so far when it comes to leadership development. Summer is a good time to reflect and start thinking bigger and bolder. Here I challenge both myself, colleagues, customers, partners and others to take the chance!
If you missed our blog post on the changed game rules due to digitalisation, you can read it here.