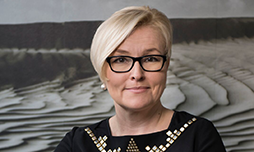 The past year at Hanken & SSE Executive Education has been lively and interesting, with many new initiatives, both together with old and new customers. With the end of yet another successful year approaching, we can summarize that our focus in 2016 has been on tailored in-company solutions and process flows for a diverse range of customers. We continue to support our customers in defining, cascading and executing their strategic priorities in their growth and renewal projects as well as in leadership and talent development.
At the same time, we as a company have succeeded to continue our own path of development and profitable growth. With the objective of reaching excellence, we have actively strengthened our own expertise in the areas of customer excellence, strategic market shaping, social impact & sustainability, digitalization, next generation controlling and future leadership. During 2016 we hosted more than ten events around these central topics.
A larger scale success this year, is our pioneering Business Lead 2016 integration initiative for educated asylum seekers. We partnered with almost 50 companies in Finland to enable 40 educated asylum seekers to attend further business education and to open the door to professional life through an in-company learning period, in one of the partner companies. We are now very excited to announce that we will re-launch the program in 2017, this time targeted to immigrants with a residence permit. More to follow on this early next year.
Another exciting new initiative is our multi-company program called SMASH - strategies for market shaping, which helps companies create organic growth by creating, changing or reshaping their market through innovative strategies.
We did also receive several recognitions of our achievements this year. To name a few, Hanken & SSE Executive Education was selected the member of the year by AmCham Finland and our Business Lead project got noticed by the EU as one of the best business cases in integrating immigrants in the EU.
We have come to realize that we must be doing something right as Hanken & SSE continued its success in topping the international rankings also this year. As a part of our parent business school Stockholm School of Economics, we were ranked number 28 in the Financial Times ranking out of the 50 top executive education providers globally. We also received the Achiever Nomination given by Kauppalehti for the fifth time in a row. On top of that, our other parent business school Hanken School of Economics was awarded the "Triple Crown" accreditation, a highly appreciated and rare business school accreditation.
The initiatives mentioned above among others have been the result of co-creation with a diverse range of players in the ecosystem. For this we are very thankful to all our smart customers, partners and our parent business schools, Hanken School of Economics and Stockholm School of Economics, as well as our own great team at Hanken & SSE.
It is now time to wind down for the holidays and we would like to thank all our customers, partners, program participants and all co-creators and stakeholders for this successful year. Make sure to keep up with us by following us on our social channels - Twitter, LinkedIn and Facebook.
Next year we hope to continue working with you to create new miracles.
We wish you the happiest Christmas and a successful New Year!