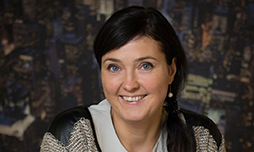 The discussion about corporate social responsibility is on the rise in Finland. Several reasons for this can be observed, among them the recent developments in the increasing number of immigrants, the Millennials' strong focus on CSR matters when choosing an employer or buying products and also the general increased transparency brought on by digitalization and social media.
Traditionally, family companies have been considered more socially responsible than others, like limited corporations. Naturally, if your name is on the door you are encouraged to conduct business in a certain way. Family businesses also typically have good HR practices and they take good care of their employees. Being Finnish, in terms of location of production facilities, and close local ties to the community is viewed as an important aspect of responsibility.
Family businesses often have the benefit of engaging in more long-term planning; a quarter for the family businesses equals a quarter of a century, as family business owner and Finnish politician Anne Berner nicely put it. Perhaps thanks to this attitude and certainly thanks to the family being willing to invest a whole lot of time and energy into the family business, family owned firms usually perform financially better, as research has shown.
A success story often referred to is one of Närpes municipality in Western Finland, and its greenhouses. In Närpes 8% of the population is of foreign origin, and the Mayor states that Närpes could not survive without them. Almost all greenhouse farmers are small independent family businesses. Without immigrants the businesses would have a hard time finding employees, and consequently without the family businesses the immigrants might have a harder time becoming integrated into the society. When creating this kind of symbiotic ties with their stakeholders, the family companies shape business and the community around them. As it has been estimated that 80% of Finnish companies are family owned, we should have a fair chance at multiplying the Närpes model also in the recent gloomy Finnish market outlook. However to achieve this, family businesses need support in legislation and taxation, and above all in generation shifts to make sure that the business survives. It takes hard work to run a family business in a profitable and responsible way, but they are vital for our economy.
Many of our clients at Hanken & SSE Executive Education are family run businesses. We have experience of the challenging complexity of leading both a company and a family while respecting the values and traditions first hand.
We have the tools to help –
to find out how.