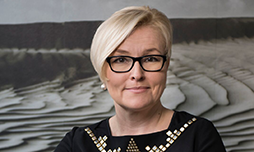 During this year we at Hanken & SSE Executive Education have carried out a study of the impact of digitalisation on leadership and HR practices together with Hanken School of Economics. The study comprised of 40 interviews with HR directors of large companies in Finland.

Throughout the years we have surveyed what future leadership looks like and certain points tend to often come up. "People are always people and good people leadership is always at the core of leadership". The study once again proved this with the support of more than 60% of the respondents.
The core of leadership
The core of leadership can be summarised to a communicative, interactive and coaching style of leadership where motivating, setting clear targets, giving feedback and empowering people are essential. Another topic that has been considered important the recent years, also this time, is leading change. Now, maybe more than ever before, leading change relates to resilience and personal renewal. However, this time around we could also identify some new issues arising and to a certain degree, there was more variety in the answers than before.
Digitalisation
Almost consistently, emerging issues relate directly to the outcomes of digitalisation. Some HR directors mainly associate and limit digitalisation to utilising new digital tools at work, while others regard it as something more comprehensive, to the degree of changing entire industry rationale and business models. Nevertheless, all HR directors agreed that it means change in the way we work. Some examples of this, is work becoming more virtual, independent from time and place, and future jobs being more expertise and independence demanding, where routine work is more automated and disappearing.
Future of work
The scope of work is also widening; networks and ecosystems are becoming a natural part of the leadership sphere. At the same time, our reality is getting more and more complex, uncertain and transparent. All these features call for a new kind of leadership, which comprises for instance virtual leadership and being able to create and lead a new "open source" culture, leading experts and networks, self-leadership and active experimentation, co-creation and service design. What becomes essential is to create purpose and meaning in a "chaotic" context. In a transparent setting, the requirements for high ethical standards also increase.
Learning digitalisation
One matter dividing opinions in the study, is learning about the very topic of digitalisation itself. Whether it is important for future leaders to understand and even study what digitalisation is/can be or what it enables. Learning about for instance artificial intelligence, robotics, data analytics or internet of things. Half of the HR directors, thought that you best learn about digitalisation at work by actively using digital tools. The other half thought that you need to study different future technologies, and experiment and test them outside of your normal environment, to get an understanding of what opportunities they can provide for your future business or how they may threaten your existing business model.
I personally belong to the group in favour of examining digitalisation outside of one's own (comfort) zone. In the process of the interviews, I fully grasped the profound opportunities of data analytics. Provided with the data analytics tools of today, I believe every leader should be aware of what can be; not only what is.
The ideal leader in the digital era
In conclusion, the ideal leader in the digital era is still a people focused leader with good interaction and coaching skills. In addition, completely new skills are needed in navigating yourself, your team, business and network in the uncertain and complex all-inclusive reality of today and tomorrow. Experimentation and constant renewal are needed to create purpose, transparency and to lead diverse teams by providing ethical example in virtual ecosystems of co-creation.
In addition, as the speed only accelerates, it is better to understand what the dimensions of digitalisation means and enables. The digital era is already here and has become a lot more revolutionary than we expected. "Am I equipped enough?" is the question all us leaders should honestly ask ourselves.
The following companies took part in the study:
Attendo, Caverion, Comptel/Nokia, Cramo, Danske Bank, Elisa, Evidensia, Evli, Fazer, Fingrid, Finnair, Fiskars, Fonecta, Fortum, Fujitsu, Hiab, Huhtamäki, Kesko, Kone, Lindström, Merck Finland, Metso, Neste, Nokian Renkaat, OP, Orion, Outotec, Pöyry, PwC, Skanska, Stockmann, Stora Enso, Tieto, UPM, Valmet, VTT, Wärtsilä, WSP Finland, Yara Finland and YLE.
If you would like to learn more about the results of the survey, send us a quick note to team@hankensse.fi.
Missed the blog 3 digital transformation challenges to tackle in leadership development? Read it here.