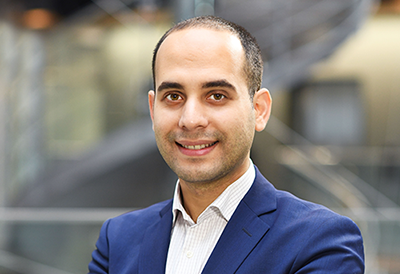 As a newcomer to Finland in late 2015, I faced similar issues that most newcomers face in a new country; I had a very small network and no friends. For the first time, I was also on my own without any family support. Luckily, I was selected to the Hanken & SSE integration program Business Lead. The program equipped me with the right skills and network, and it paved the way for me to start a normal working life in Finland.
Originally, I am from Iraq. Due to insecurities and internal conflict, me and my family were forced to move within the country, then to neighbouring Middle Eastern countries and after that I lived shortly in Europe. I grew accustomed and fell in love with the different cultures and when I was 23 years old, I decided to come to Finland, only carrying a few things with me and most importantly my degree in energy engineering and liberal arts.
After a while in Finland, I got to know about the Business Lead program from a Facebook post. I immediately became interested and decided to apply, after learning that the program aim was to facilitate integration of newcomers and refugees into Finnish business life. I was privileged to be selected to take part in the Business Lead pilot program in 2016 along with 39 other international participants from different nationalities, age and backgrounds. We were all very motivated and in no time we were made feel right at home! We were encouraged to engage with the lecturers and I also made new friends.
Business Lead took a practical approach and introduced us to the Finnish business culture. Included in the program was a two-month internship in a company in Finland. Due to my background in energy engineering, my internship was with Fortum. The program had an additional layer of support to the participants, a mentorship track. The mentors were immigrants and Finnish professionals from different industries. My mentors took a gentle, encouraging approach to help guide me and my colleagues through our internship periods. Their goal was to enable us to take on more challenges at work to promote ourselves as future employees.
I worked as a bio researcher for the R&D team at Fortum and it was very exciting. I had very supportive yet demanding superiors and the guidance received from the Business Lead program helped me to communicate with my supervisors. With my background in many different countries, I managed to add value for my employer with my market knowledge and know-how. After the program, I was rewarded with a job as a market analyst and finally got promoted to an international sales position at Fortum.
I learnt a great deal through the Business Lead program and the work experience but still I had the wish to continue studying. I was very interested in executive education and in an MBA, so I got in touch with Hanken again. I applied to the part time Executive MBA program and got selected to participate. The ongoing program is very intensive, yet rewarding with great practical approach and a network for life. I am very optimistic of the outcome and still looking forward to learning more.
Since March, I have been attending lectures at the same place where the Business Lead took place two years ago. In the same class room, I learnt that hard work and dedication pays off. Business Lead is a great opportunity for participants and companies alike. If you have the chance to participate or support the Business Lead program please do. You might be surprised by how much impact your own actions can have.