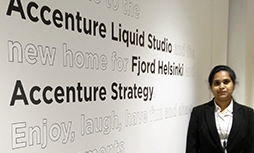 I took part in the integration program Business Lead 2017 offered by Hanken & SSE Executive Education and now as a result I am working for Accenture in Helsinki. I am Swathi Kasoju and this is my story taking me from India to Finland.
My journey started almost precisely a year ago, when I joined my recently married husband in Finland last December from India. I am a software engineer and I have been working as a senior software developer and technical lead back in India. Once in Finland, I started to look for a job and came across the Business Lead program by Hanken & SSE, through an interview with the TE office. I was very fortunate to be accepted to join the program and the path to my current role started there.
What makes me especially happy is that my career here in Finland has evolved into the path I always wanted. Previously I was doing some development work but was involved in mostly support and integrations, now I have a completely different focus working as a developer, so I switched paths completely.
While my internship focused on my career path in IT, what also helped me a lot was the broad business outlook the Business Lead program gave me. I highly appreciated that the online parts were tied into the live days, this really enforced the learnings. As me and my husband are settling here in Finland, we have a long-term plan to set up our own business. The program gave me a lot of scope and tools on how we can do research and analysis for the business that we want to set up. Finland is a very safe country, with a very high trust level and it is a very good and easy place to set up a business.
Something I keep hearing is that Finnish people don't speak out, I don't have that experience at all. Everybody is very open, honest and kind. I started off being fairly quiet since I thought that would match the expectation but quite quickly I noticed that it is not like that at all. During the internship I came out of my shell, so the experience had an impact on me also personally. In fact it turned out quite easy to make friends in Finland, both with people from Finland and elsewhere. We go for outings and spend time together with the team I work with, I also made many friends through the Business Lead program itself.
I am very lucky to be part of Hanken & SSE and now part of Accenture, in a role I really want to work in. This whole experience opened the door for me and it has given me encouragement that I can do it!
Hanken & SSE Executive Education cultivated an idea born at Slush in 2015, into an integration program for educated immigrants together with corporate partners. The initiative named Business Lead is now in its second year and is offered as a part of the Koto SIB framework. Business Lead includes live- and online learning, mentoring and a 2-month internship in a partner company in Finland. The Business Lead 2017 initiative is part of the official Finland 100 program and the program will be rerun in year 2018 and beyond.